How well do you know our property? Some of you may be frequent visitors here and some of you may be brand new (welcome new friends!). Today, we'd like to share some details, features, and qualities of Graton that many of you may not know. Take a peak and see if you know any of our Graton Fun Facts!
Size Matters
Isn't that how the old saying goes? Graton is the largest casino in all of Northern California. With over 135,000 square feet of gaming space, the entertainment opportunities are endless. To put that into perspective, that's enough room to house 28 NBA Regulation Sized Basketball Courts. Steph Curry would have a lot of fun getting up shots in a space like that!
Within our gaming space, there are over 3,500 slots and 100 table games to choose from. If you want variety, look no further. In order to see almost every game we have to offer, it would take an estimated 45 minutes to walk our entire gaming space (please note, our team members are happy to provide refreshments to any guests that get tired along the way).
Live Lavishly When You Stay With Us
There are 200 rooms on property in total; 16 of which are suites. Of the suites that we have to offer, our 5 Bay California Suite is certainly the definition of lavish. At 2,600 square feet, you could theoretically fit a ranch home inside! The California Suite is equipped with many features from billiard tables to butler pantry furnishings to luxuriously comfortable king sized beds, spacious jetted tubs and more!  However, there is one feature you'd be hard pressed to find anywhere else… Each restroom has been fitted with Mirror TVs! No more running to the living room to catch your favorite shows in the middle of getting ready for the evening!
We Love, Love, LOVE Events
Let the good times roll at any of our shows held in The Event (once they start up again). Since opening, we've held over 130 shows. We've had performers from a wide variety of genres and backgrounds, from Rap to Rock & Roll to Latin Pop and everything in between. Artists like Nelly, Willy Nelson, and David Spade have stopped by to rock the house with amazing musical performances and hilarious comedy sets. Of all of our shows, the most widely attended are Latin Concerts which host a standing room capacity of 2,000 guests.
As large as our event space is, it is also capable of breaking down for smaller, more intimate settings. The Event can be converted into seven function rooms in total. From small business meetings and holiday parties to shows, expos, and job fairs, we can do it all for you!
R & R
Who doesn't need to release a little tension? Since its debut in 2016, visitors have joined us from all over to relax and recharge. During normal operation, our spa & salon features thirty different treatments to choose from, so that guests could enjoy a full day of pampering or more if they have time. Seriously, it would take approximately seventy hours or nearly nine days to enjoy every treatment available on our menu!
Relaxation begins before each service. All visitors are encouraged to arrive early to prepare for their treatment by taking advantage of our state-of-the-art Hydro Area with features that include our Steam Room, Redwood Dry Sauna, Ice Room & Hot Tub.  With a quick cool down in the Ice Room and a soak in the hot tub, this is the only area on property that one could go from winter feels to summer vibes instantly.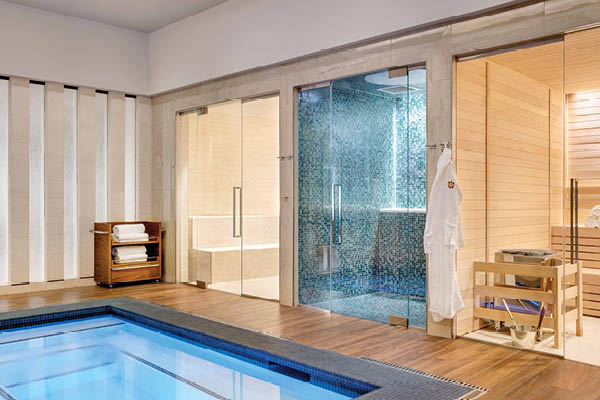 How many fun facts did you know? We hope that you've enjoyed learning a bit more about us and all of the different ways to experience Graton Resort & Casino! Whether you're a new or returning visitor you're a friend of ours and we hope to see you soon!