Hi Friends! We hope you're excited that warm weather is finally here! We know we are, and that's why we'd like to take the time to provide a few property updates that are sure to give you all the summer vibes.
Some of you may have heard the news… our pool is now open! We're so happy to welcome you all back after a lengthy break. Pool access for hotel and spa guests is available seven days a week with summer hours from 9am until 8pm. Access is also available for guests that rent one of our daybeds or cabanas. Cabana and daybed rentals are available every day and have a maximum occupancy of 4 guests. Visitors can kick back in one of the most beautiful settings in Sonoma County! Lay out on our plush lounge beds or catch up on a few of your favorite shows while having a mid-day snack or lunch.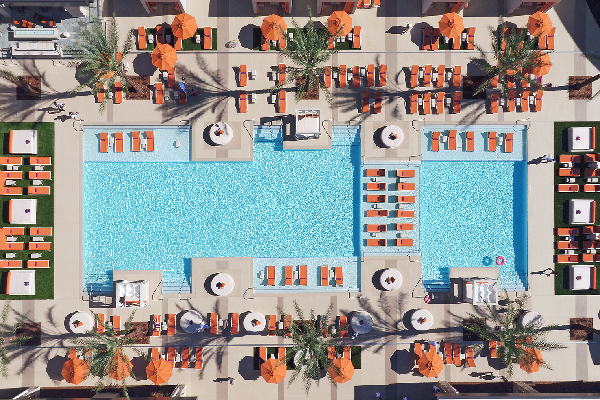 The perfect place to stay cool in the heat. Visitors can take a swim in our beautiful, crystal blue pool surrounded by lush palm trees.
Our Cabanas are fully enclosed and feature a flat screen television, a mini fridge stocked with ice cold, complementary refreshments, bathing towels, and plush lounge furniture to take a rest or quick cat nap if needed. Daybed rentals are partially enclosed with silk curtains and an open top to get your perfect tan.
Cabana and daybed rentals are available seven days a week and can be reserved by calling (707).588.7100. Reservations may include up to 4 people so get your friends together and stop by!
We have a wide selection of food drinks to choose from. Offerings consist of small plates, share plates, entrees, and specialty cocktails.
A few members of our team wanted to share some of their top poolside, food and drink picks. Choices include the following:
Cal-Italia Flatbread
Prepared with Mozzarella, gorgonzola, prosciutto di Parma, and a balsamic reduction.
Crostini Sampler
Selection of Olive Tapenade, Pesto Goat Cheese, and Wood Oven Roasted Pepperonata.
Strawberry Spiked Lemonade
Made with fresh, muddled strawberries, agave, vodka, and lemon juice.
Blueberry Spiked Lemonade
Made with fresh blueberries, blue curacao, agave, vodka, and lemon juice.
While we've got all of our foodie's attention, we're also happy to announce the opening of a brand new Marketplace Feature: La Texanita!
Feast on a delicious selection of authentic, Mexican dining offerings including Tacos, Burritos, Pozole, Tostadas, and more. For up to date hours, click here to visit our Marketplace Page. We have a couple suggestions, that should help get you started:
Taco Pescado
Taco Pescado with a little Pico and Lime for your taste buds.
Wet Burrito
Wet Burrito filled with Carnitas and a side of guacamole that is skillfully crafted and made to be devoured.
One last item we have to suggest that you take advantage of during your summer is a day of relaxation at our Spa & Salon. We are happy to share that our Spa has resumed massage and facial treatments. I don't know about you, but it feels like years since my last treatment, so don't wait. Book your next appointment and let us take it from there.
Treat yourself to a 60 min spa service and let your aches and pains fall away.
Our Spa and Salon Team wanted to recommend a couple of their favorite treatments to make your day at the Spa complete. These include:
Relaxation Massage
A gentle massage for both new visitors and returning friends alike. A treatment that utilizes a full array of therapeutic botanicals and steamed towels is the perfect introduction to our spa services.
Hot Rocks
Exactly as it sounds, Hot Rocks includes the use of heated basalt stones that are placed and positioned to relieve muscle tension throughout the body. This is followed by a calming, cold stone face massage that will put you in a state of pure bliss.
Whether you want to lounge by the pool, spend a day at the spa, or sample some tasty food and drinks, there's always something to do here at Graton. For the latest information regarding all property updates, please make sure to keep an eye on our social media channels. We hope you all have a lovely summer, and we look forward to seeing you soon for some fun in the sun!