Unsure of what to pick for your meal? Not to worry, we're here to help! We've compiled a list of some of our favorite offerings from Tony's of North Beach! We've got just the plate to satisfy you and your friends on your next visit. Let's dig in!
Tried & Trusted, Tony-Approved Pizza Pies!

Everyone loves a good pizza pie and Tony's delivers with a tasty selection to choose from.
Winner: New Yorker (Winner Best Traditional in the World, Las Vegas)
No surprise here folks. Tony's award-winning New Yorker Style Pizza has a reputation for a reason. With a variety of blended cheeses and Prosciutto di Parma to top it off, it's no wonder that this pizza has accolades.
Runner up: Traditional Margherita Pizza
One of the essentials at any Italian restaurant. You can't go wrong with this classic entrée.
Perfect Pastas for Every Flavor Palate
It's okay to get a little saucy. Tony's offers a wide selection of pastas to choose from!
Winner: Spicy Mostaccioli w/ Dungeness Crab (Author's Choice)
A perfect blend of mouthwatering Dungeness crab, delicately cooked shrimp, and a spicy tomato cream sauce. Place your order for this dish today (and save me some!)
Runner up: Linguini with Clams
Cooked with white wine and a delicate garlic butter sauce, Linguini with Clams is always a safe bet for a happy tummy!
Delicious Desserts to Drool Over
Our favorite part of dinner. If you need a little something sweet, take a peek at Tony's dessert menu. We won't tell, we promise!
Winner: Mud Pie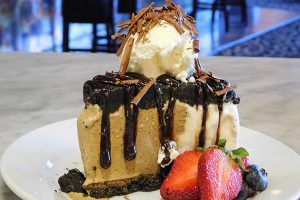 Our Mud Pie can satiate the needs of any chocolate fanatic. Throw in a scoop (or two) of gelato and top it with Oreo cookie crumbles for a dessert option that can make anyone smile.
Runner up: Espresso Gelato Affogato
We're not sure if this is technically dessert, but we'll allow it on the grounds that it is extremely yummy. Coffee and espresso fans will jump for joy over this simple, yet effectively flavorful after-dinner treat!
Hand Crafted Burgers Visit Italy
While these may not traditionally be Italian classics, Tony's provides a unique selection of specialty burgers with Italian-inspired ingredients and influences.
Winner: Burrata Burger
Italian Burrata Cheese, bacon, carmelized onion, Angus Beef, and a balsamic reduction come together to create a burger that offers fantastic flavor complexity for our more adventurous burger fans.
Runner Up: Calabrese Burger
Calabrese Peppers and Spicy BBQ Sauce bring a nice level of heat and zest to this burger offering that any of our spicier guests can enjoy!
Stromboli & Calzones Made Fresh Daily
As staples of the culture, Calzones and Stromboli are as classic as it gets.
Winner: Manhattan
Filled with meatballs, mozzarella & ricotta cheese, roasted garlic and fresh oregano, the Manhattan serves as an exceptional menu item to try on your first visit.
Runner Up: Tony's Original Stromboli
Tony's Signature Stromboli will certainly be a favorite for our more carnivorous guests. Served with pepperoni, sausage, prosciutto, mozzarella & cheddar cheeses, and a variety of other spices, this delicious dinner option is as fire as the oven it's baked in.
And there you have it. No need to ask your server for any more time to decide! We hope you've enjoyed our list! For more information, please visit our Restaurants Page. We'll see you soon!