Welcome back! Today we've got a special treat for all of our lovers of Asian Cuisine. We've put together a list of our absolute favorite menu items from Boathouse Asian Eatery. From sushi to short ribs, wok seared beef and everything in between, you won't be disappointed with any of these selections. Let's dig in!
Sashimi

Right off the bat, we'll start with one of the more daring areas of our menu. All seafood is imported directly from Japan. For those of you that have never tried it, sashimi is an extraordinarily high grade, bite sized sampling of ocean dwelling fish. The most common assortment would be "Sake" or Salmon, "Hamachi" or Yellowtail, and "Maguro" or Bluefin Tuna. Add a touch of wasabi or ginger to kick your taste buds into overdrive!
Kicking Calamari
As the name suggests, this calamari comes with a little kick. Juicy, pan seared scallops are the staple in this bowl with a light fried coating that makes for a bit of crispy goodness. Seasoned bell peppers, onions, chilis, and peanuts offer some complexity and a delicious fragrance that will definitely make you think about a second helping.
Trainwreck Roll

This might be a bit of a misleading name as this roll is an absolute masterpiece. Each piece contains spicy tuna, tempura shrimp, and cucumber held together with a traditional seaweed and rice outer body. Pieces of "Unagi" or Eel are delicately placed on top and held down by slices of avocado. The final cherry on top of it all is the addition of vibrantly colored "Tobiko" or fish eggs that are held in place with spicy aioli. Given that description it may sound like a train wreck but this is one you'll want to experience.
Whole Crab
We know our crab fans are in the audience. If that's you, then you'll have to consider going with a whole crab. Steamed to perfection and garnished appropriately for a colorful foodie photo op, Boathouse's Whole Crab comes with a Sweet and Sour Tamarind Sauce that for many, replaces the more common lemon and butter drizzle. Seriously, you may want to use this sauce on all things seafood after trying it.
Shaking Beef
I tried this in my own wok and realized… I might need a bit more training. Our friends at Boathouse however, do not. Cube-shaped cuts of filet mignon are tossed and seared with bell peppers, onions, and broccoli upon request in order to bring out a complex, full flavored beef option that serves as an excellent menu alternative for those that do not prefer sushi or seafood. This item pairs quite well with a side of white rice or Stir Fry Lo Mein.
Clams in Black Bean Sauce
Made with Fresh Manila Clams, delicately diced onions, a touch of ginger and jalapenos, this is another fantastic choice for our guests that enjoy their seafood cooked. A suggested pairing for this dish would be a white sauv blanc. You could also order some beef chow fun for a little surf and turf action.
Korean Short Ribs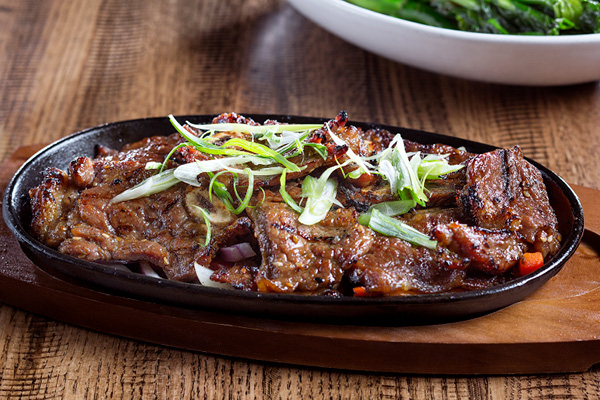 The perfect blend of spices, bell peppers and onions are used to marinate, flavor and garnish this dish. Kalbi ribs differ from American style ribs due to the manner in which they are cut, which ultimately produces a thinner cut version of short ribs. Sweet, simple, and tasty! Add a pineapple mojito to your order to make things even sweeter.

That brings this list to a close! We hope we've inspired you with some of our favorite Boathouse Asian Eatery selections. For more information or to make your next reservation, please visit our Dining & Entertainment Page. We hope to see you soon!