Some of pop culture's biggest names exist on our gaming floor if you know where to look. With that in mind, we've decided to make things a bit easier for you by giving a quick guide to some of the most entertaining pop culture slot games. From movies to mythology, we invite you to walk down memory lane with us and see if you're familiar with some of these iconic gems.
Willie Nelson Shotgun Willie
"Big Wins and big smiles with Willie on your side"
The man, myth, and legend, Mr. Willy Nelson is on full display in this three reel game named after one of his popular studio albums. The objective of this progressive game is simple: line up three Shotgun Willie symbols on the ninth pay line for a chance at a hefty, progressive payout. 2x, 3x, 4x, and 5x Multipliers can be added to various symbols to increase your overall earnings!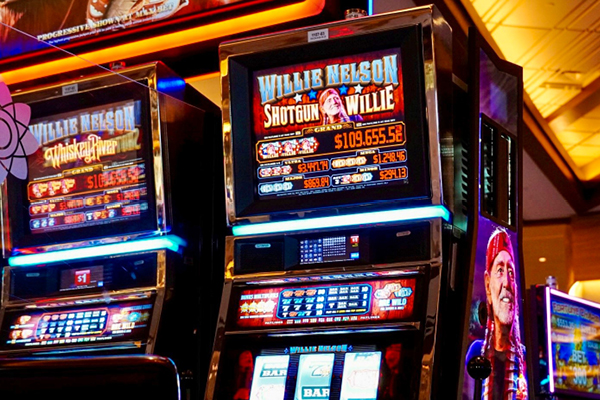 Kronos Unleashed
Unleash the king of the Titans…
Luckily his wrath is not aimed at us in this five reel, 60 line slot game. Kronos bestows his grace in the form of free game bonuses for a shot at three separate tier level jackpots and Lightning Spin Retriggers that offer a potential of earning an astonishing $250,000 Jackpot!
Tarzan
Me Tarzan; You rich.
Roam the jungle for jackpots in this progressive slot game. Features include two progressive jackpots with $20,000 resets, free game opportunities, and wild multipliers that combine to offer a thrilling experience. Jane will be there as well to help when she can!
Wheel of Fortune 4D Feat. Vanna White
The famous wheel spins in your favor.
Take a spin on the wheel with Vanna in this gameshow inspired slot game. In Wheel of Fortune 4D, players can interact with an LCD display itself in order to spin the wheel in 3D. When the opportunity arrives, just give a swipe and see where luck takes you. A giant Progressive Jackpot may just come your way.
Monopoly Money Grab
Mr. Monopoly has style.
In the running for largest display on property, this game is as fun as it is flashy. Be on the lookout for Wild Stacks that bring out the famous Mr. Monopoly to make it rain money. Another game feature to enjoy is the Hit & Win function that offers free games and a wheel feature for even more incredible prizes.
Willy Wonka Everlasting Gobstopper
"If you want to view paradise, simply look around and view it."
Jump into a world of imagination with this five-reel progressive slot game based on pop culture's most mysterious candy maker! This game has a ton of features including Oompa Loompa triggers that expand the reel total, Gobstopper Symbols that offer a potentially massive multiplier, and a chance to land on the "Golden Ticket". Be careful not to stray from the tour!
Wonder Woman Wild
One of DC's mightiest heroines.
Wonder Woman and her lasso of truth join the list with a five-reel forty pay line design. There are three jackpot levels and free games to go around that can be collected by use of wild symbols. Other noteworthy symbols including her invisible jet, indestructible bracelets, and iconic TV show-inspired cast that pop up to make for a fun trip down memory lane and to help achieve some wild winnings!
Wizard of Oz Munchkinland
"Lions, and tigers, and bears! Oh my!"
We're off to see the Wizard in this five-reel progressive, 3D slot game! The wheels are capable of being expanded by a mischievous character that many Wizard of Oz Fans may be a bit unfamiliar with: the Wicked Witch of the East! The Munchkins get in on the action too with a Munchkin Parade Bonus that when triggered, can offer chances at credits and free spins. The most sought after reward within the game is the No Place Like Home Progressive Jackpot!
And there you have it! We hope you all enjoyed our list. If you haven't had the opportunity, give one of these a go on your next visit. For more information on slot games that we have to offer, please visit our Slots Page. We'll see you again soon!